| | | |
| --- | --- | --- |
| | The Coffee Radio Difference Committee | |
---
FLASH!
Read about the CrDc on Mars!
---
Mission
CrDc has the official task of promoting and disseminating the following Truth throughout the known world:
ANY DIFFERENCE BETWEEN THE COMMON, BREWED, CAFFEINATED BEVERAGE TYPICALLY KNOWN AS ' COFFEE ,' AND THE AUDITORY, WIRELESS, COMMUNICATION MEDIUM KNOWN AS ' RADIO ,' IS SLIGHT, AND IT BECOMES SLIGHTER IN RELATION TO THE LATENESS OF THE HOUR AT WHICH THE EQUIPMENT FOR MAKING EITHER OR BOTH IS OPERATED.
---
History
CrDc grew out of a strange, wonderful, neo-pagan rite done yearly to welcome the coming of the summer solstice. In this sacred time, many tightly organized groups of technical wizards retreat to isolated areas of great natural beauty to burn fuel, chant and drink odd spirits.
One of these groups, called 'bark' by its initiates, evolved a secret ceremony called CONELRAD, or COffee NEeded by Local RADiopeople. Please do not confuse this long-cherished ritual with the other CONELRAD, a paranoid, 1950s broadcasting system that was intended to prevent hostile aircraft from using your local, AM rocker to drop nuclear bombs down your chimney.
About a decade back, it became obvious that CONELRAD demanded its own inner circle, literally a keeper of the flame, to provide exhausted celebrants with the strongest, darkest, truest brew possible. In the first year, brave CrDc initiates rose heroically to their essential task, working in howling, mountain winds by firelight, using their own bodies to shield the open stove so that water (at 8000 feet above the San Andreas Rift Zone), would get more than lukewarm.
Though the coffee is remembered as exquisite, no photographs of this initial effort survive. This is a tragedy for civilization as we know it.
Since this rookie season, CrDc has made other contributions, such as a tentative field observation strongly suggesting that the California brown bear savors the grounds of quality coffee even more than celebrants fancy their brew. As soon as this observation can be duplicated by others, a preliminary research monograph will be posted here.
---
CrDc on MaRs?


| | | |
| --- | --- | --- |
| | This picture shows the Mars Rover taking a spectrum of a rock that looks a great deal like your CrDc Bear. It is suspected that the rock was carved, though by who or what we do not know, to signal for the services of CrDc on Mars. After all, there are going to be a lot of radios on this planet. It gets very cold at night, and it does not appear as if there's currently one single good cup available anywhere. CrDc is happy to be so honored. | |
Sleep badly tonight... your CrDc is awake!
---

Back to Hugh's table
Back to tech office
Back to top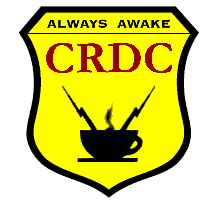 -- .- .-.. -... .
-.-- --- ..- .-.
..-. .. -. .- .-..
-.-. --- ... - ...
.-
-.. --- .-.. ._.. .- .-.
- .-- . -. - -.--
-.-. .. -. .
.-.-.-
.-.-.