This Is Not A Pipe.
[It's Our (Free) Gift Shop!]

Our helpful employees will be more than happy not to take your money.

Grab
The Official Y2K Seal
of
Hugh's Ominous Valve Works




some more images to take home:

This will be on a shirt someday... (640x480, bigger available)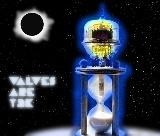 This might be too... (800x678)
Floyd
This is what I see when I look at the San Fernando Valley. So I'm weird. (GIF, 80K)
Aurora
I wanted to paint like Lee Mullican, Matt's late father. Hmmmm. Looks like I'm still trying. Meanwhile, I made this nice picture that kinda reminds me of Lee's style. (GIF, 88K)
Plug and Pray!
I came upon this Win95 Billboard in Times Square. It seemed to be having a bad day, like Mr. Gates' op-system often does. The guy in the next ad over appeared to be having a reaction of his own.
12hr Emergent Coffee Cantata #0 90s cornucopia
12hr Emergent Coffee Cantata #1 Revisits an epiphany I had while waking to a solar flare
12hr Emergent Coffee Cantata #2 mmmmmmmmmm

Sometimes a few friends fall by for tea.

The New House

Joseph Goldberg's eclectic aggregation of everything from computer programmers to fire eaters.

Red-Agnes

Zowie! A desuetist web site courtesy hbe.

Charlie Lester's Ethéreal Esotérica 137

Charlie is just another graphic artist/church organist/thereminist who collects vacuum cleaners and ponders the deeper implications of the Fine Structure Constant being 137 and not something smaller. You know. Just another guy like that.

Otis College of Art and Design

Otis is the best art school in L.A..


The faculty is incredibly cool. The program is extremely strong on fundamentals. I can't say enough good things about the place.

Recently, Otis split off from Parsons, put the fashion program in the downtown garment district where it belongs, and moved art and design to an incredibly subtextual IBM card of a building right here in good old Free Westchester. This was traumatic for a lot of people, but I can't believe my luck. Now it's a 5 minute drive to class. Ahhhh.


Artists In Residence:

Links age. I check them. Even so, some go nowhere.

The Road to Nowhere

Incorporating the formerly-experimental Dada Server. It still won't hurt your computer.


Fluxus

/These/People/Make/Good/Art/

The Fluxus Home Page [Link Updated 8/97]
The Fluxus Indian Museum
Artifacts of a mythic[al] people, who invented the test pattern
Fluxus Online Link updated 7/96

TRUISM

Online version of the classic, generating TRUISMS while U wait.

GRAFICA Obscura

Some thought-provoking demos of processes that finally get us beyond the computer as a simple retouching tool. From SGI's server.

Bas Van Reek Art Building

Old, really neat, site, kept around on the cool xs4all server, for old times' sake.

Dilbert Home Page

"I got my ham radio license! I can divide by zero"

Web Museum Network

This monumental art resource is the work of one computer visionary, namely Nicolas Pioch. Our link is to the entry point at UNC, but there are mirrors all over the planet.

ArtNet

You don't need fare to 57th St. anymore.
artboy@ ominous%-valve.com
(remove the antispam blank and %)
curated 10/30/99